Wiser Technology Advice Blog
WISER-TECHNOLOGY-ADVICE-BLOG
NFTS BLOCKCHAIN AND THE METAVERSE
NFTs, blockchain and the metaverse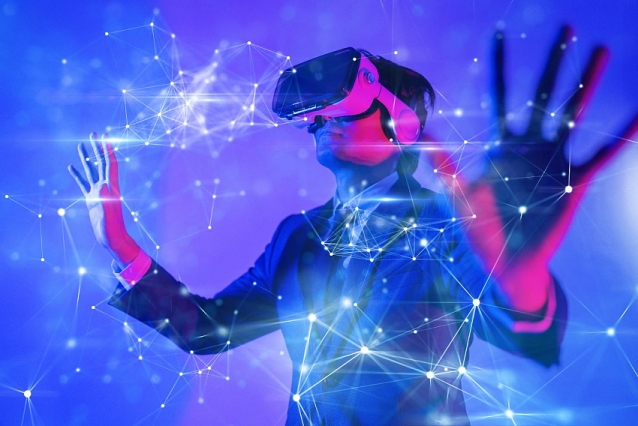 There's been a few stories published in the news over the last few weeks about artists using NFTs. So, what exactly are NFTs and what does it mean for you?
The acronym NFT stands for non-fungible token. But that's no help in understanding what it means, so let's take a step back and put it all in context.
Blockchain
I first wrote about blockchain in May 2019, in my blog post Blockchain is transformative technology, in which I explained how this technology, first invented for cryptocurrency Bitcoin, has potential for broader use.

image: itNews
In 2019 I wrote about blockchain starting to be adopted by entrepreneurial businesses and its potential to transform the way we communicate and do business in the future. Whilst blockchain has the potential to be transformative technology, it is taking a long time to gain any traction.
The Australian Blockchain Week 2022 in-person/online conference was held from March 21st to 25th 2022. The publicity from this conference was well managed and behind the stories in the news about artists using NFTs. I tuned in to some of the online conference sessions to understand how far we've come with blockchain in the past few years. Disappointingly I was left with the impression that entrepreneurs involved in this sector are in it for a quick profit, and businesses with more altruistic purposes are still in very early start-up and development stages.
Many of the conference sessions were dedicated to governance and legal considerations about blockchain, as the industry sector attempts to become more acceptable to mainstream business and consumers. However, investment opportunities in this technology sector remain very high risk, as digital currencies, start-up blockchain businesses and NFTs are plagued by very volatile international markets, scams and bad actors.
The Metaverse – web 3.0
In my January 2022 blog post, Technology Trends for 2022, I included some thoughts about the 'Metaverse', a marketing buzzword that's been invented to describe the blockchain driven transformation predicted for the internet. A more technical term for this transformation of the internet and online connectivity is web 3.0.
The first iteration of the internet, web 1.0, provided us with a wealth of freely available information to read. Before the advent of the internet in the 1990s the written word was confined to books, magazines and newspapers.
Then as we approached the turn of the century, clever marketers discovered ecommerce, web 2.0, giving people the ability to write orders and shop online. There was a lot of excitement and hype about ecommerce, which inevitably led to the dot-com bubble quickly bursting.
The metaverse, and the blockchain platform it's based on, has been touted as being web 3.0, a brave new world of entire lives lived out in the virtual world, with people interacting online, owning digital assets and using digital currency such as Bitcoin for both their online and real-world purchases.
And of course we're all wondering when the web 3.0 bubble will burst. The lesson to learn from history is that business needs a compelling reason to develop a model based on the new technology. The internet has since matured to the point where we take online shopping for granted and we expect to be able to find information about anything we want to learn about in publicly available websites.
NFTs
Non-fungible tokens (NFTs) can be explained as the base building blocks of the blockchain. Each token represents ownership of an item, such as an original digital artwork. Non-fungible means that the item cannot be freely exchangeable or replaceable. For example, if you buy an NFT digital artwork, it cannot be downloaded from the internet to be copied and shared freely.
The non-fungible aspect of blockchain purchased items has great potential to better support artists and musicians. Smart contracts held in the blockchain provide proof of ownership and authenticity, giving better protection to creative copyright licences.
Being able to authenticate an item has application for both digital and physical items. If every record of sale for a valuable item is held on a blockchain, these records can never be changed or deleted. For example, blockchain-based smart contracts could be used to prove the provenance of antiques.
What's the catch?
Blockchains and NFTs remain extremely expensive, with huge amounts of energy required to maintain all the electronic records that are generated and saved. This is not only economically expensive, until we can create clean energy across the globe it's also environmentally costly.
Plan your strategy for 2022 and beyond
If you're keen to dive into web 3.0 and explore the opportunities for your business, how will this fit into your technology strategy be for 2022 and beyond?
Do you need professional advice, but don't know who to trust? Do you feel overwhelmed by the complex and technical world of information technology? With over 30 years' of experience in the information technology industry, and many years of experience on boards of directors, I am perfectly placed to guide you through what's best for your business when it comes to strategic planning.
If you'd like to talk further about anything I've written about, get in contact with me today, I'm always happy to meet and have a chat over a coffee – in person or online, whatever you're more comfortable with.
Further reading:
A revealing look at the dot-com bubble of 2000 – and how it shapes our lives today, 4 December 2018, Brian McCullough, Ideas.TED.com, available at: https://ideas.ted.com/an-eye-opening-look-at-the-dot-com-bubble-of-2000-and-how-it-shapes-our-lives-today/
Adobe releases new updates to help brands position themselves in the metaverse, 17 Mar 2022, Athina Mallis, itNews Digital Nation, available at: https://www.itnews.com.au/digitalnation/news/adobe-releases-new-updates-to-help-brands-position-themselves-in-the-metaverse-577500
ANZ completes its first stablecoin transaction, 24 May 2022, itNews, Kate Weber, available at: https://www.itnews.com.au/news/anz-completes-its-first-stablecoin-transaction-577809
Blockchain is transformative technology, 10 May 2019, Wiser Technology Advice, Sonya Weiser, available at: https://www.wisertechnologyadvice.com.au/wiser-technology-advice-blog/blockchain-is-transformative-technology
Australian Blockchain Week 2022 conference, online recordings available at: https://www.blockchainweek.com.au/
Booming NFT scene has critics warn of bubble, 30 Mar 2022, Fintechnews Switzerland, available at: https://fintechnews.ch/blockchain_bitcoin/booming-nft-scene-has-critics-warn-of-bubble/43711/
CBA focusing on central bank digital currency, 22 Mar 2022, Kate Weber, itNews, available at: https://www.itnews.com.au/news/cba-focusing-on-central-bank-digital-currency-577643
Meet me in the metaverse, Accenture, available at: https://www.accenture.com/us-en/insights/technology/technology-trends-2022
Microsoft introduces its own metaverse: Mesh, 28 Mar 2022, Anacaren Burgos, MOX Networks, available at: https://mox.cl/blog/134/microsoft-presenta-su-propio-metaverso-mesh/en
NAB is developing a stablecoin, 23 Mar 2022, Kate Weber, itNews, available at: https://www.itnews.com.au/news/nab-is-developing-a-stablecoin-577705
Non-fungible tokens (NFT), Ethereum, available at: https://ethereum.org/en/nft/
The Metaverse and NFT Boom Is About to Go Bust, 16 Mar 2022, Stephen Moore, available at: https://onezero.medium.com/the-metaverse-and-nft-boom-is-about-to-go-bust-b63c52c37c94
Think big, start small, and scale fast on the Metaverse: Accenture global CTO, 21 Mar 2022, Andrew Birmingham, itNews Digital Nation, available at: https://www.itnews.com.au/digitalnation/news/think-big-start-small-and-scale-fast-on-the-metaverse-accenture-global-cto-577594