Wiser Technology Advice Blog
WISER-TECHNOLOGY-ADVICE-BLOG
THE INTERNET OF THINGS IN 2022
The Internet of Things in 2022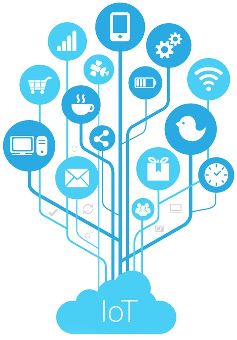 The Internet of Things (IoT) promises great opportunities and the potential for every electronic device and computer in the world to be connected.
IoT is well established in the world of consumer electronics, with many devices such as smart watches, internet televisions and robot vacuum cleaners all able to be connected and controlled through mobile devices.
But the Australian business community is lagging behind and not taking full advantage of IoT. Why is this?
IoT conference, Melbourne, June 2022
I attended an IoT conference in Melbourne earlier this month, where there were some inspirational key note speakers to listen to and enthusiastic vendors to talk with. But I felt that I didn't learn anything new, as commercial use of IoT does not yet seem to have been broadly adopted by Australian businesses.
Looking back at a blog post I wrote in July 2019 (A Connected World of Commerce), nothing much seems to have changed for most Australian businesses since the IoT conference I attended pre-COVID in June 2019.
Great opportunities
IoT has the promise to completely transform Australian businesses and there are great opportunities for its use. Here are some case studies where the benefits of IoT can be exploited:
"Tackling Australia's water sustainability challenges" IoT conference keynote
South East Water (a Melbourne-based utility) is using IoT for management of its assets, shifting their focus from reactive to proactive to precision management.
Digital water meters pick up small leaks in the network and large leaks (burst water mains). They have vibration sensors in meters, which can predict where a burst might happen from the increase in vibrations in meters.
After installing digital water meters, they found 6% of households had leaks, fixing these saved an average $150 saving off their next water bill. 25 million litres of water has been saved to date.
"Six years of hard pedalling: Lessons learned and unexpected outcomes" IoT conference keynote
Sensors were installed in fridges for fast food outlets to optimise cooling and reduce shrinkage and power wastage. Monitoring electrical circuits had the unexpected outcome of optimised power consumption for all the fast food store's appliances, also allowing planning of asset replacement to maximise efficiency.
IoT conference vendor Taoglas case study
Sensors have been installed inside rubbish bin lids, which send an alert when the bin is 80% full and needs to be emptied. This builds a history of trends, allowing creation of more efficient rubbish truck routes.
IoT conference vendor InTechnology case study
Realtime location tracking of devices and equipment to within 1 metre accuracy can be provided using Bluetooth tags. An example of this is putting a Bluetooth tag on forklift in warehouse, to monitor the location of this piece of equipment that must stay within a defined zone.
"Sydney Trains looks to IoT to cut back on power use" itNews
This news story of course caught my eye, because it's about trains! Sydney trains have had IoT sensors onboard its trains since 2018 which provide real-time crowding estimates to passengers. Now they're working in collaboration with IBM, exploring use of data from IoT sensors in AI systems to reduce energy usage across their network of electric trains.
Australia is lagging behind
Despite the potential benefits of IoT, stories about it being used commercially still seem to be few and far between in Australia. So why are we lagging so far behind the rest of the world in taking advantage of the great opportunities of IoT? We've been talking about this for many years now, why is it taking so long for Australian businesses to adopt IoT technology?
We cannot build a reliable internet of things if we can't transmit data through Australia-wide networks that provide high-speed, reliable performance for large volumes of data. Australian businesses that start looking into the promising world of IoT are quickly discouraged by the difficulties of connecting their network devices. For example, it's difficult to send anything other than tiny amounts of telemetry data from smart devices that are used in remote rural locations.
Australia ranks 15th in the world in average mobile network download speed but only 67th in the world in average fixed-broadband internet speeds, according to the Speedtest Global Index. That is woefully poor performance, lagging behind developing and poor countries around the world. Australian telecommunication providers have been locked into selling the government-owned fixed-broadband network, tying their hands behind their backs.
If you're located in one of our major cities, the options for high-speed internet connectivity are constantly improving. Last week for example, TPG Telecom announced it is upgrading major metropolitan facilities to support a 10 gigabit per second (Gbps) service for enterprise customers. TPG said 137,000 businesses in Sydney, Melbourne, Brisbane, Adelaide, Perth and Canberra are in its 10Gbps Fast Fibre service footprint. TPG's 10 Gbps service doesn't come cheaply however, at $2,499 per month, plus GST.
The large enterprise customers which the most profitable target market for telecommunications providers are mostly in the eastern states capital cities. This has created a legacy of networks that focus on capital cities and leave the regions behind. Remote regional areas of Australia still struggle to access broadband and mobile networks.
Nanosatellites (shoe-box sized satellites that operate in a low earth orbit) promise to fill in the gaps for remote communication, where there are gaps in the cellular networks. But this technology is still in its infancy and those ready for commercial use can only support limited bandwidth data transmission. This means for example you'll only be able to send little bits of telemetry information from your devices to your systems. Larger data files, such as image data, are not yet able to be transmitted via nanosatellites.
Communications terminology
When you start talking to IoT vendors you'll find there are a lot of technical terms and acronyms used for IoT communications technology. Here is a list of some of the communications terminology I've put together since talking to vendors at the IoT conference, which I hope you'll find helpful:
LAN (local area network) is the historical connectivity for short-range communication used for data networks within buildings, via network cables or wi fi (wireless networks).
WAN (wide area network) provides long-range communication and is generally supported by 4G and 5G cellular networks. Nanosatellites (shoe-box sized satellites that operate in a low earth orbit) promise to fill in the gaps for remote communication, where there are gaps in the cellular networks.
LPWAN (low power wide area network) provides wireless communications at low speeds over long distances, with low power requirements. IoT devices can stay connected using batter power for years without replacement, which is ideal for smart city networks.
LoRa (long range) is a patented digital wireless data communication IoT technology. LoRa transmits over license-free sub-gigahertz radio frequency bands and enables very-long-range transmissions (more than 10 km in rural areas) with low power consumption.
LoRaWAN (long range wide area network) is a copyrighted name for a low power wide area network (LPWAN), managed by the LoRa Alliance which has 500+ members. LoRaWAN is an open-source communication protocol defined by the LoRa Alliance consortium. LoRaWAN only suitable for very narrow bandwidth, which is find for telemetry data to monitor devices but it cannot be used to send larger volumes of data, for example to send image files.
What's next?
Are you exploring how IoT might be of benefit for your organisation and want to test what the enthusiastic vendors are promising? With over 30 years' experience in the information technology industry, I can see through the vendor hype to the reality of what's feasible for you. My role is to help you get the solutions you need, rather than spending money on new technology that's not right for you.
If you'd like to talk further about anything I've written about, get in contact with me today, I'm always happy to meet and have a chat over a coffee – in person or online, whatever you're more comfortable with.
Conference expo vendors
Here's a list of vendors who had stalls at the IoT conference that I talked with:
Further reading
A Connected World of Commerce, 2 July 2019, Sonya Weiser, available at: https://www.wisertechnologyadvice.com.au/wiser-technology-advice-blog/a-connected-world-of-commerce
LPWAN, LoRa, LoRaWAN and the Internet of Things, 8 August 2018, Prashant Ram, available at: https://medium.com/coinmonks/lpwan-lora-lorawan-and-the-internet-of-things-aed7d5975d5d
Nanosatellites, the tiny giants of the Australian space ecosystem, 7 Aug 2018, Geraldine Baca Tirveno and Kymberly Change, available at: https://www2.deloitte.com/au/en/blog/consulting-blog/2019/nanosatellites-tiny-giants-australian-space-ecosystem.html
Speedtest Global Index, available at: https://www.speedtest.net/global-index
Sydney Trains looks to IoT to cut back on power use, 17 June 2022, Justin Hendry, available at: https://www.itnews.com.au/news/sydney-trains-looks-to-iot-to-cut-back-on-power-use-581442
TPG launches 10Gbps broadband for business, 20 June 2022, Richard Chirgwin, available at: https://www.itnews.com.au/news/tpg-launches-10gbps-broadband-for-business-581556