Wiser Technology Advice Blog
WISER-TECHNOLOGY-ADVICE-BLOG
TECHNOLOGY TRENDS FOR 2023
Technology trends for 2023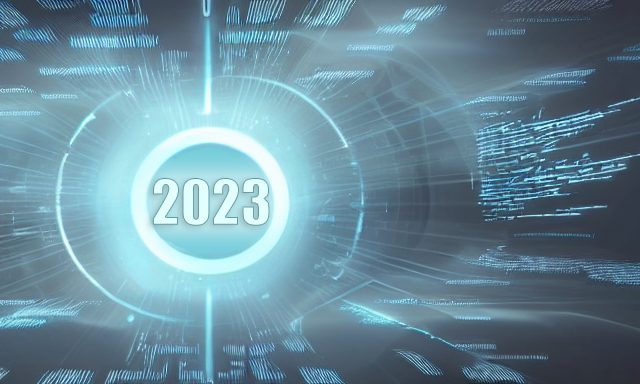 Happy New Year! My January blog post is once again about the year ahead and what I'm predicting for trends in technology. Two areas that are of most interest this year are artificial intelligence (AI) and electric vehicles.
Artificial intelligence
Use of artificial intelligence (AI) solutions has become commonplace, with increasing trust in the answers served up by machine learning algorithms.
If you're a sports lover like me, the most obvious trust in machines has been at this summer's Australian tennis tournaments. There haven't been any people courtside to judge line calls, it's all done by an automated line calling system. This has been used at the Australian Open and the lead up United Cup tournaments, with instant replays shown courtside for balls that land close to the lines. Players and audiences take it as a matter of course that the automated system gets the line calls right every time.
Another interesting use of AI that's making headlines is ChatGPT. GPT-3 (Generative Pre-trained Transformer 3), is an AI-based natural language processing (NLP) system developed by OpenAI. It is the successor of GPT-2 and GPT-1, both of which had been released earlier by OpenAI. GPT-3 is an auto-regressive language model that uses deep learning to generate human-like text. It is the largest language model ever created and has been trained on a dataset of over 45TB of text. The potential applications of GPT3 are vast, from natural language processing (NLP) to machine learning (ML) and even creative writing. GPT3 can be used to generate high-quality text, such as news articles and blog posts, without requiring any human input. It can also be used to generate automated replies to customer service inquiries, or to generate summaries of long documents. In addition to text generation, GPT3 can also be used for natural language processing. It can be used to answer questions, parse information, and make predictions based on text. This can be used to create chatbots or virtual assistants that can interact with people using natural language.
Now, I challenge you to read that previous paragraph again... does it sound like it was written by a human or a robot? Because all the text from the word 'GPT-3' onwards was generated using ChatGPT! The question put to the AI program to generate this text was "I want to talk about GPT3 in a blog post and explain what it can be used for in layman's terms, so I thought I would…".
Schools and universities are facing a big challenge as it becomes more and more difficult to detect use of AI generated text in essays. Flinders University, the University of Adelaide and the University of South Australia have recently adjusted their policies, to allow the use of AI generated text if it is disclosed. It's difficult to come to terms with this, as students were traditionally tasked with writing essays to demonstrate their knowledge and understanding of a subject. But technologists have been quoted as saying that schools and universities should stop panicking and embrace students' use of artificial intelligence. We know that it is impossible to stop students from using AI programs, so educators need to understand and adopt new technologies, rather than fearing the rapid rate of change and trying to stick to traditional methods of assessing students.
Now, look again at the '2023' image at the start of my blog post... this was also created using an AI program! It was generated using vStable Diffusion, which is similar to other big name AI art programs such as Dall-e 2 and MidJourney. Are images that are generated by these programs considered to be art? Music and videos can also be generated by AI programs and as the technology improves it gets increasingly difficult to tell if it was created by a human.
So what defines a work of art, does it have to be created by a human to be accepted as a work of art? Can AI and creativity co-exit?
What we can conclude is that the skills in demand in the future will shift. With increasing trust in the answers served up by computers, those of us in the technology industry have a moral obligation to ensure AI programs are trained with good quality data that ensures fair and balanced output. And academic skills of the future won't be regurgitating facts, but critically question information and knowing the right questions to put to an AI system to get a sensible output.
Electric Vehicles
The shift towards use of electric vehicles is gaining momentum, with the most notable support from the government being the fringe benefits tax exemption for electric cars. From 1 July 2022 employers do not pay FBT on eligible electric cars and associated car expenses. This is encouraging business investment in fleets of electric cars, which I expect to have a flow-on effect for consumers. As electric cars become more common on our roads this increases the demand for electric car charging infrastructure.
Tesla currently dominates the electric car sales in Australia, which I think is a triumph of marketing hype over actual benefits. Tesla sold nearly 10,800 of its Model 3 car last year to win the mid-size sedan market segment that had been dominated by the Toyota Camry (9,500 sold in 2022) for 28 years.
Competition in the electric vehicle market is growing in Australia, as other car manufacturers have been increasing their sales of electric vehicles. For example, Volvo sold more battery electric vehicles than internal combustion engine vehicles during the month of December 2022.
Technology brands are now also entering the electric vehicle manufacturing market. At this year's Consumer Electronics Show, along with flying cars, electric boats and a BMW car that can change colour to match your outfit, a Sony/Honda electric car collaboration was announced. The car is branded Afeela and looks like a midsized sedan, promising to combine AI technologies with vehicle manufacturing. This is a car targeted to big cities, needing to be connected to the cloud 100% of the time to operate. It comes equipped with 45 cameras and sensors on the interior and exterior of the vehicle, some of which will be able to detect the driver's condition to help ensure safety.
Personally, I've always been a late adopter and I'm not emotionally attached to any brand. Battery technology is still quite new, with concerns about what happens to batteries once they reach the end of their 10-year lifespan. At the moment, batteries are so expensive to replace you might as well buy a whole new car! So whilst I love the idea of an all-electric vehicle, I will continue to wait until the long term benefits of buying and owning an electric vehicle outweigh the costs before investing in this technology.
What's your strategy for 2023 and beyond?
Are you planning on adopting advances in AI or investing in electric vehicle technology this year? I hope I've inspired you to plan your broader technology strategy for 2023 and beyond!
Do you feel overwhelmed by the complex and technical world of information technology? With over 30 years of experience in the information technology industry, and many years of experience on boards of directors, I am perfectly placed to guide you through what's best for your business when it comes to strategic planning.
If you'd like to talk further about anything I've written about, get in contact with me today, I'm always happy to meet and have a chat over a coffee – in person or online, whatever you're more comfortable with.
Further reading:
BMW Has a Car That Talks Like KITT and Changes Color to Match Your Outfit, 5 Jan 2023, Antuan Goodwin, CNET, available at https://www.cnet.com/roadshow/news/bmw-has-a-car-that-talks-like-kitt-and-changes-color-to-match-your-outfit/
Can AI and creativity coexist?, 15 Dec 2022, Beau Ushay, Digital Nation, available at https://www.digitalnationaus.com.au/news/column-can-ai-and-creativity-coexist-589163
CES 2023, Consumer Technology Association, available at https://www.ces.tech/
CES 2023: Wireless TVs, eyebrow printers, and colour-changing cars, 10 Jan 2023, David Braue, ACS Information Age, available at https://ia.acs.org.au/content/ia/article/2023/ces-2023--wireless-tvs--eyebrow-printers--and-colour-changing-ca.html
ChatGPT appears to pass medical school exams. Educators are now rethinking assessments, 12 Jan 2023, James Purtill, ABC News, available at https://www.abc.net.au/news/science/2023-01-12/chatgpt-generative-ai-program-passes-us-medical-licensing-exams/101840938
ChatGPT owner OpenAI estimates US$1B revenue in two years, 16 Dec 2022, Jeffrey Dastin, Krystal Hu and Paresh Dave, Digital Nation, available at https://www.digitalnationaus.com.au/news/chatgpt-owner-openai-estimates-us1b-revenue-in-two-years-589219
ChatGPT: Optimizing Language Models for Dialogue, OPEN AI, available at https://openai.com/blog/chatgpt/
Electric Cars Exemption, Australian Tax Office, available at https://www.ato.gov.au/Business/Fringe-benefits-tax/Types-of-fringe-benefits/FBT-on-cars,-other-vehicles,-parking-and-tolls/Electric-cars-exemption/
Generative AI is far more powerful in a business context, 17 Jan 2023, Athina Mallis, Digital Nation, available at https://www.digitalnationaus.com.au/news/cover-story-generative-ai-is-far-more-powerful-in-a-business-context-589804
Sony and Honda Drive New Electric Car Afeela Onto the CES Stage, 5 Jan 2023, Sareena Dayaram, CNET, available at https://www.cnet.com/roadshow/news/sony-and-honda-drive-new-electric-car-afeela-onto-the-ces-stage/
South Australian universities to allow use of artificial intelligence in assignments, if disclosed, 21 Jan 2023, Tory Shepherd, The Guardian, available at https://www.theguardian.com/australia-news/2023/jan/21/south-australian-universities-to-allow-use-of-artificial-intelligence-in-assignments-if-disclosed
Tesla Model 3 tops Camry in Aussie car sales, 17 Jan 2023, Casey Tonkin, ACS Information Age, available at https://ia.acs.org.au/content/ia/article/2023/tesla-model-3-tops-camry-in-aussie-car-sales.html
The Brief History of Artificial Intelligence: The World Has Changed Fast—What Might Be Next?, 29 Dec 2022, Dr. Max Roser, Singularity Hub, available at https://singularityhub.com/2022/12/29/the-brief-history-of-artificial-intelligence-the-world-has-changed-fast-what-might-be-next/
The Future of Tech is Already Here: From Flying Cars to 8K Projectors, 11 Jan 2023, Karissa Langlo, Daniel Van Boom, CNET, available at https://www.cnet.com/tech/the-future-of-tech-is-already-here-from-flying-cars-to-8k-projectors/
The Top 10 Tech Trends In 2023 Everyone Must Be Ready For, 21 Nov 2022, Bernard Marr, Forbes, available at https://www.forbes.com/sites/bernardmarr/2022/11/21/the-top-10-tech-trends-in-2023-everyone-must-be-ready-for/
Volvo sold more EVs than ICE cars in Australia last month, 12 Jan 2023, Mike Costello, Car Expert, available at https://www.carexpert.com.au/car-news/volvo-sold-more-evs-than-ice-cars-in-australia-last-month#article_comments